PHYSICAL TREATMENT
PRELIMINARY TREATMENT
Preliminary treatment units are located at the entrance of wastewater treatment facilities. They reduce the pollution load of the wastewater treatment plant, prevent the accumulation of oil and solid wastes in the system, extend the life of the equipment and increase the efficiency of the wastewater treatment system.
F Physical / Pre-treatment units consist of treatment stages without any chemical addition, such as separation of coarse materials from wastewater from water, flow measurement and flow adjustment. Floating (e.g. oil, grease, fiber, sawdust, plastic etc.) or precipitating substances (e.g. stone, sand, metal, etc.) in the wastewater are separated from the water by physical treatment methods.
Related products:
Equipment used in pre-treatment units are selected depending on the sector, flow rate and wastewater characteristics. Some of the following equipment can be used together:
Avekon Compact Pre-Treatment
Adjustable / Floating Sluice
Penstocks
Stoplog
Telescopic Valve
Basket Screen
Spiral Screen
Linear Channel Screen
Channel Circular Screen
Rotating Disc Sieve (Discostrainer)
Drum Screen
Static Screen
Perforated Screen
Plastic Conveyor Screen
In-Channel Micron Screen
Screening Presses And Conveyors
Microflotation DAF
Sand Separator
AVEKON COMPACT PRE-TREATMENT
AVEKON Compact Pre-Treatment System is a compact treatment system including screening and precipitation sections. In the first stage, the solid materials held in the screen are separated from the wastewater. In the second stage, the wastewater is taken to the sedimentation section where the collapsible / floating materials are separated from the wastewater. The materials deposited on the surface and settled to the bottom are taken with scrapers and auger spirals and taken to waste container automatically. Since the wastes kept in the system are cleaned continuously, the efficiency of treatment is high and the space requirement is low. Since the shaftless auger structure prevents jams and blockages, the collected waste is easily transported and disposed of. Additional sludge dewatering systems may be added if necessary. If there is oil in the wastewater, an optional blower is added.
AVEKON Compact Pre-Treatment System is designed to treat wastewater of various capacities and different character.
System Features:
Easy install
Compact structure, can be installed in small spaces
Separation and classification of wastes
Simultaneous AKM, Oil Grease and COD removal
Low energy consumption
High efficiency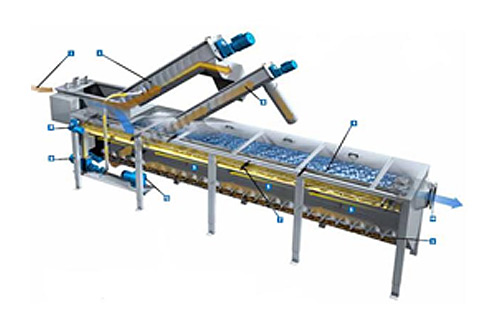 Parts List
1. Inlet
2. Screw screen/ Fine step screen
3. Grit trap with screw conveyor
4. Partition wall
5. Aeration
6. Grit Screw
7. Grease scraper with scraper blade
8. Drive unit grease scraper
9. Grease pump
10. Outlet
11. Solids container
12. Sand container
13. Air blower
14. Level gauge
15. Grease level gauge
16. Air flowmeter
Related Sectors:
Domestic Wastewater Treatment Facilities
Wastewater Treatment Facilities of Municipalities and Organized Industrial Zones
Hotels and Resorts
Various Factories: Paper, Pharmaceutical, Textile, Denim Washing, Soft Drinks, Metal Coating, Plastic Recycling Facilities, Food, Milk and Dairy Products, Canned Food, Chemical Paint Production etc.
Other